Understanding the fees charged by port terminals for Brazilian exports is highly relevant for exporters' operational and strategic decisions. Attentive to the competitiveness of companies in the international market, Sindirochas and Centrorochas will promote, on October 29, the lecture "Foreign trade: legal relations and port tariffs", in Vitória. The theme will be conducted by lawyer Luciana Mattar Vilela Nemer, specialist in Maritime, Port and Tax Law.
The lecture is aimed at businessmen and professionals with activities related to foreign trade, regardless of the segment. The event aims to expose and discuss the main items that affect the use of the Brazilian port infrastructure, comparing them to international benchmarking. The position of the main public authorities on the subject will also be demonstrated, such as the Federal Revenue Service of Brazil (RFB), the National Waterway Transport Agency (Antaq), the Administrative Council for Economic Defense (CADE), the Federal Audit Court (TCU), among others.
Entries are limited and free and must be made on the Centrorochas website. The event has the support of Findes, CCCV (Coffee Trade Center), Sindaees (Union of Customs Brokers Commissioner of ES), Sindiex (Trade Union Exp. Imp. of ES) and Apra (Association of Permission Companies of Customs Enclosures – ES Dry Ports).
Schedule
1:30 pm – Registration
2 pm to 4 pm – Lecture "Foreign trade: legal relations and port tariffs"
4pm to 5pm – Round table
Service
Date: 10/29 (Tuesday)
Time: 13:30
Location: Alfândega Auditorium – Av. Marechal Moraes, 1333, Santa Maria Island, Vitória
Free registration (fill in the form below)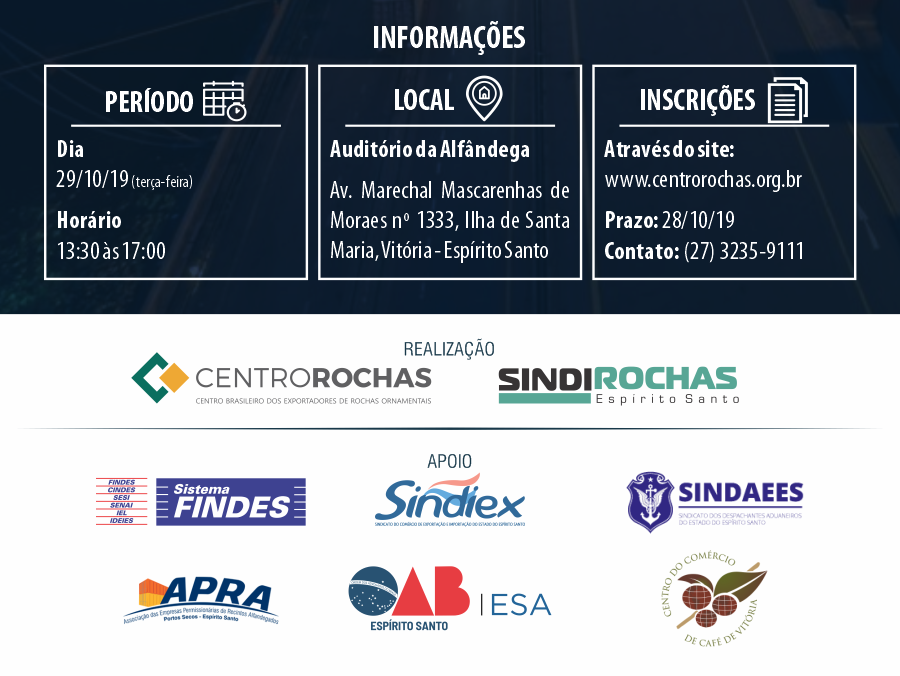 Faça sua pré-inscrição
ATENÇÃO: Vagas limitadas. Limitado a 02 inscrições por empresa.