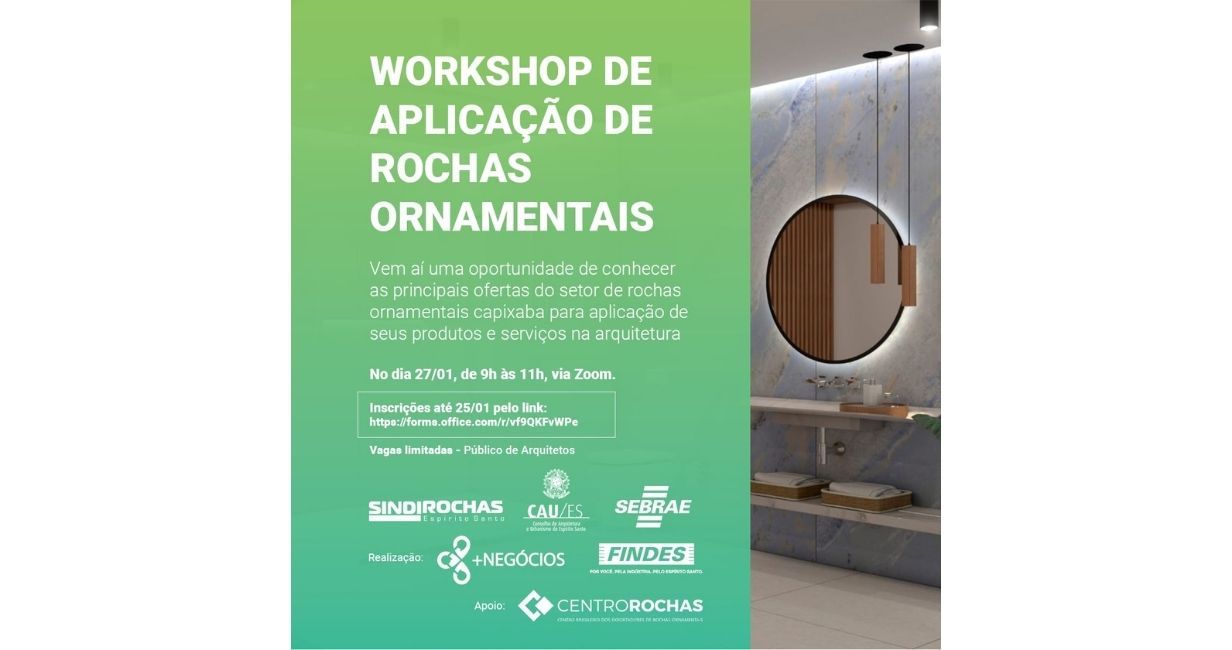 The Federation of Industries of Espírito Santo (Findes), Sindirochas, Sebrae, Centrorochas and the Council of Architecture and Urbanism (CAU-ES) are going to hold this Thursday (27th) the Dimension Stone Application Workshop.
Aimed at architects and professionals in the construction and decoration sector, the event aims to present trends in this market, boost business and strengthen local industries.
The action is part of the +Business Program, which seeks to promote sales by Espírito Santo companies from different segments and project them locally, nationally and internationally. Segments such as food and beverages, basic industries and construction, mining, clothing, furniture and civil construction are part of this work of consolidation of companies in Espírito Santo.
Those interested in participating in the event, which will take place virtually, can register until the 25th (Tuesday) by clicking here. The Dimension Stone Application Workshop is the first action of the program in 2022.
Throughout this year, other initiatives, such as business roundtables with different companies and sectors, will be carried out to boost the Espírito Santo market and make it increasingly a reference in the country and in the world.
National Leader
Largest producer and exporter of ornamental stones, with a share of over 80%, Espírito Santo ships marble, granite and other natural stones to the five continents. Among countries, the United States is the largest buyer.
Ornamental Stones Application Workshop
When: 1/27, Thursday
Hours: 9am to 11am via Zoom
Registration until the 25/01th via the link: https://forms.office.com/r/vf9QKFvWPe