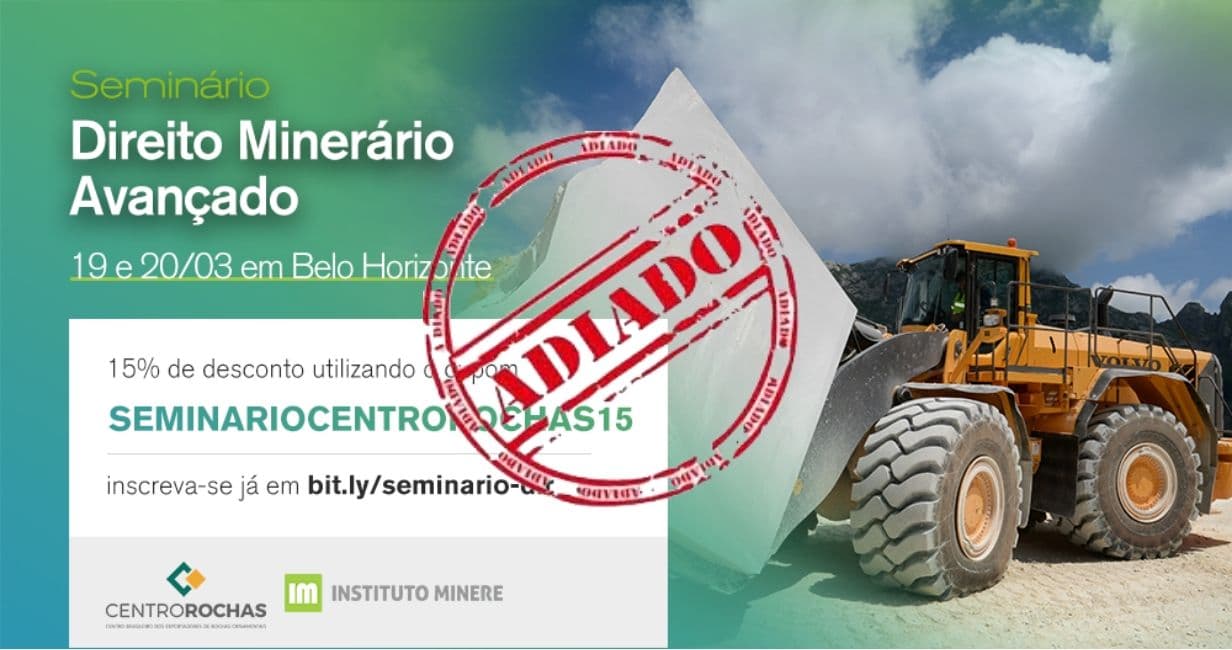 Update (18/03/2020) > A statement sent by Instituto Minere informs the postponement of this course. A new date will be announced. Doubts should be dealt with directly with the institute. Click here!
Centrorochas members have a 15% discount on the Advanced Mining Law Seminar to be held on March 19th and 20th in Belo Horizonte.
Promoted by Instituto Minere, the event aims to promote the exchange of knowledge on complex and current issues between professionals linked to companies, public agents, consultants and entrepreneurs, aiming at the exchange of experiences, professional updating, the formation of knowledge networks (networking ) between participants and speakers.
To those interested, just use the coupon, according to the image and guarantee the discount. The seminar is organized into panels where multidisciplinary specialists from the public and private sectors will make individual presentations and discuss the contents among themselves and with the public on the following topics:
– Open innovation in Mining: The protection of intellectual property of startups that work with the sector;
– Challenges of the General Law for the Protection of Personal Data (LGPD) and its interfaces with Mining;
– Evolution of the National Mining Agency and its rules: Legislation updates, what will still change and when;
– Draft General Environmental Licensing Law and the simplification of authorization procedures;
– Mining dams: Retrospective of legislation, conflicts and legal forecasts on the use of tailings and de-characterization of structures;
– Governance and Compliance: Strategic review and risk management.
To see the full schedule, click here!