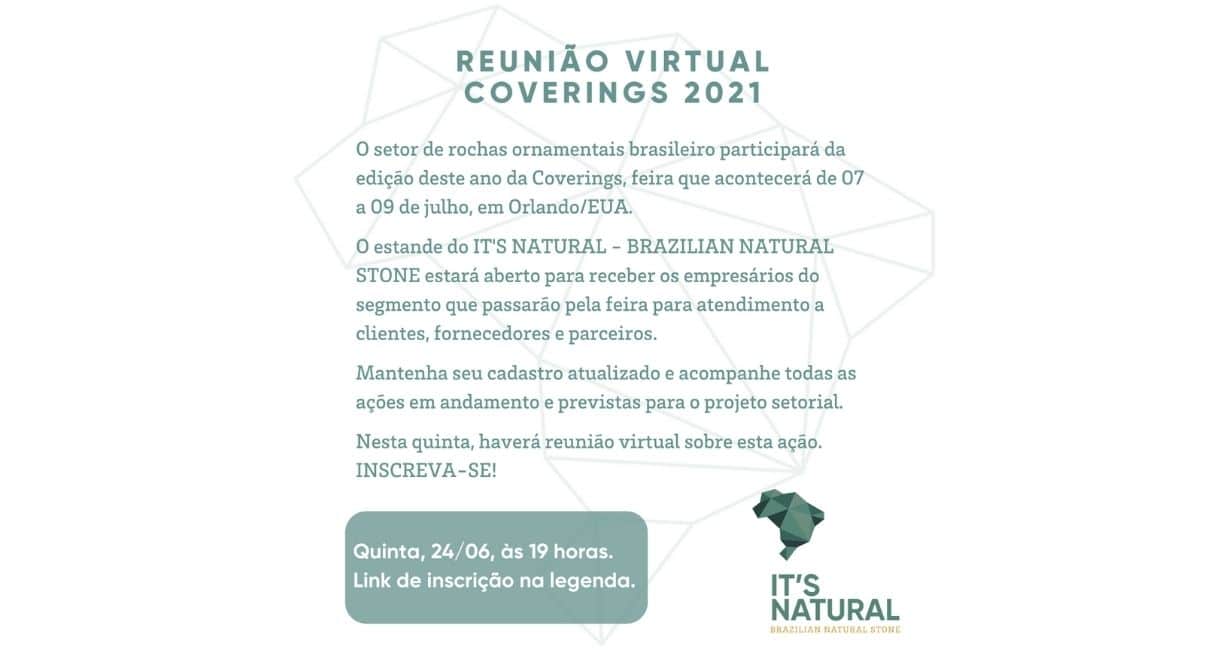 The Brazilian ornamental stone sector will be represented at this year's edition of Coverings, one of the main fairs in the sector, which takes place from July 7th to 9th, in Orlando/USA.
Participation will take place through It's Natural – Brazilian Natural Stone, a program to promote exports of Brazilian ornamental stones, a partnership between the Brazilian Trade and Investment Promotion Agency (Apex-Brasil) and the Brazilian Center for Ornamental Stones Exporters (Centrorochas ).
Representing the Brazilian sector at the fair is the first major action under the cooperation agreement signed on May 31, just 37 days before the start of the North American fair.
Thus, considering the short period of time for preparation, the global pandemic situation, which imposes restrictions on entry into the United States, and the influence of this factor on the visitation capacity and, consequently, on the results of the fair, we opted for an alternative participation, different from that was being done by the sector. Brazil will be present with a stand that will be the home of companies at the event.
The measure is a sign of respect and attention to companies in the sector, preserving their investments and maintaining the brand's exposure in the international market, as well as the good relationship with the event's promoter.
The It's Natural – Brazilian Natural Stone stand will be open to receive businessmen who, given the circumstances, will visit the fair to serve customers, suppliers and partners.
Participating companies, in addition to being able to use the stand as a meeting point and support, will be visually noticed in the space by displaying images that they make available, such as logos and institutional videos.
The company's participation, even if through images, is conditioned to the signature of the Term of Adhesion and completion of the segmentation form (https://pt.surveymonkey.com/r/HYBYFR7) of the Agreement. The adhesion term can be digitally signed, provided the electronic signature is in accordance with ICP-Brasil (usually linked to the requirement of a token). If the document is signed manually, the original document must be sent to Centrorochas.
To clarify any doubts and open a space for dialogue with companies in the sector, we will promote a virtual meeting this Thursday, 06/24, at 7 pm. Confirm your presence through the link: https://bit.ly/3gJL4om
—–
SERVICE:
Coverings Stone Fair 2021
Date: from 7 to 9 July 2021
Location: North Hall of the Orange County Convention Center in Orlando, Florida.
Institutional participation in the program It's Natural – Brazilian Natural Stone.