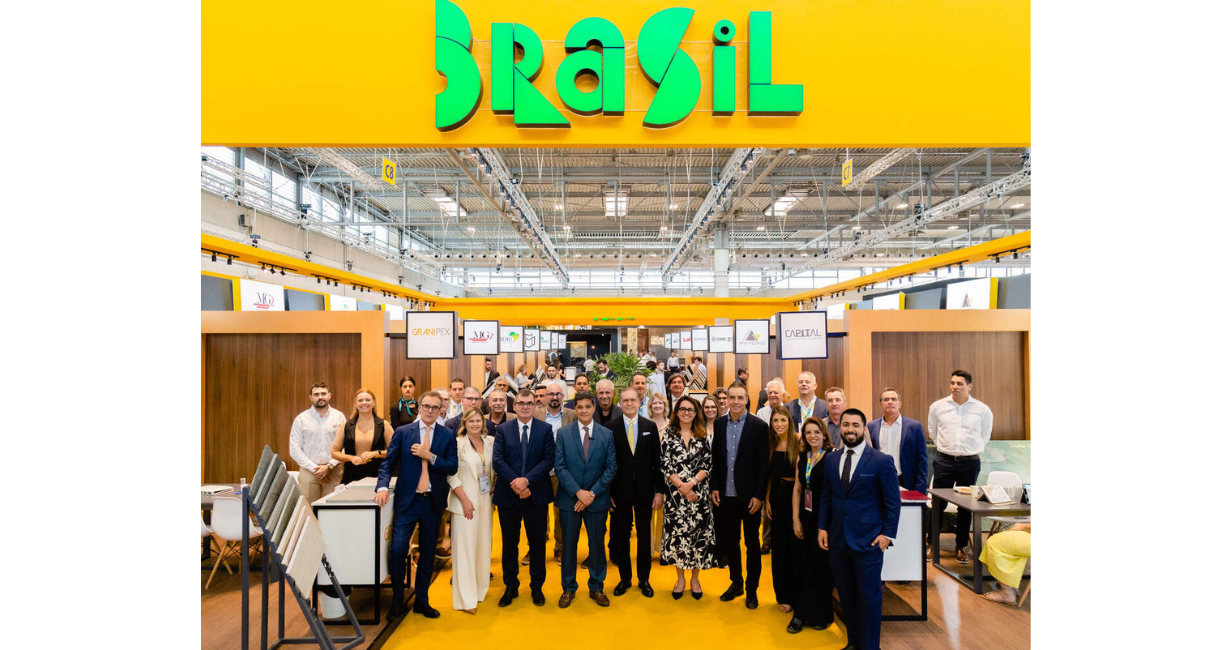 Brazil's ornamental stone industry continues to make waves on the international stage. At the 57th Marmomac held in Verona, Italy from September 26 to 29, Brazil showcased a robust presence. With a record number of participating companies, exclusive displays of Brazilian materials, unprecedented awards, and sectoral promotion, Brazil stood out.
Organized by the Brazilian Trade and Investment Promotion Agency (ApexBrasil), with support from It's Natural – Brazilian Natural Stone and the Brazilian Center of Ornamental Stones Exporters (Centrorochas), the Brazilian Pavilion boasted a record number of exhibitors (43) and attracted visitors from various countries including India, China, South Korea, Vietnam, Russia, Spain, and Italy.
In addition to the exhibition at the Pavilion, Brazil's stones took on unique forms in an exclusive exhibition curated by renowned Italian designer Raffaello Galiotto, a mentor in the ornamental stone sector and curator of design shows at Marmomac. Titled "Herbarium Mirabile," the exhibition featured five sculptures carved from Brazilian stones among the 27 exhibited pieces. These materials were chosen after Galiotto's visit to Brazil, invited by It's Natural, Centrorochas, and ApexBrasil in February this year, allowing him a closer look at Brazilian materials.
Under the suggestive title "The Unique World of Brazilian Natural Stones," Brazil captivated fair visitors with a presentation showcasing the incredible geological diversity of the world's 4th largest producer and 5th largest exporter of ornamental stones. Fabio Cruz, Vice President of Centrorochas, and project manager Rogério Ribeiro led the discussion, covering topics including sustainability initiatives adopted by the productive arrangement. The session was moderated by Guilherme Amoroso, Content Director of Casa Vogue Brasil.
Brazil also shone in the "A Matter of Stone" award. Capixaba company Pettrus received an honorable mention in recognition of its exceptional commitment to sustainability. In this same award ceremony, Flávia Milaneze, CEO of Milanez and Milaneze, the organizing company behind Vitoria Stone Fair and Cachoeiro Stone Fair, was honored with the prestigious title "Le Donne del Marmo" ("The Women of Marble" in English). This achievement not only reflects Flávia's talent and dedication but also highlights the fundamental role of women in the ornamental stone sector.
Two Brazilian companies stood out in the BCA Awards. Pettrus received the second prize with an honorable mention due to its innovative brand positioning concept, respecting visitors by not participating in Marmomac last year due to logistical reasons. Another Capixaba company, Magban, proved its worth by becoming a finalist in the "Concept Estero" category. This nomination underscores Magban's continuous focus on innovation and pursuit of excellence in the ornamental stone sector.
With its growing presence and success at Marmomac 2023, Brazil continues to solidify its position as a key player in the global ornamental stone market. "These recognitions and achievements not only demonstrate the exceptional quality of Brazilian products but also the country's commitment to innovation, sustainability, and excellence in the ornamental stone sector, elevating Brazil's name to new international heights," celebrated Tales Machado, President of Centrorochas.
About It's Natural – It's Natural – Brazilian Natural Stone is an export promotion program developed by the Brazilian Center for Ornamental Stone Exporters (Centrorochas) in partnership with the Brazilian Trade and Investment Promotion agency (ApexBrasil). The program, which currently supports 185 companies, aims to stimulate and increase the exports of Brazilian ornamental stones through a set of strategic internationalization actions, including promotion, image strengthening, and sectoral development in the global market. Over the past two years, the project has impacted more than 600 architects and designers across three continents: North America, Asia, and Europe. Companies interested in joining the project can access https://podio.com/webforms/26378838/1995038 and register for free.
About Centrorochas – The Brazilian Center of Ornamental Stone Exporters is actively involved in all national efforts to enhance the competitiveness of the ornamental stone sector. The organization directly supports Brazilian entrepreneurs in their presence abroad, in conjunction with commercial and operational activities related to the development and advancement of Brazilian companies.
About ApexBrasil – ApexBrasil works towards promoting Brazilian products and services abroad and attracting foreign investments to strategic sectors of the Brazilian economy. To achieve these goals, the Agency executes a diverse range of commercial promotion initiatives aimed at promoting exports and showcasing Brazilian products and services abroad. This includes prospective and commercial missions, business rounds, support for the participation of Brazilian companies in major international trade shows, visits by foreign buyers and opinion leaders to explore the Brazilian production structure, among other business platforms with the objective of strengthening the Brazil brand.